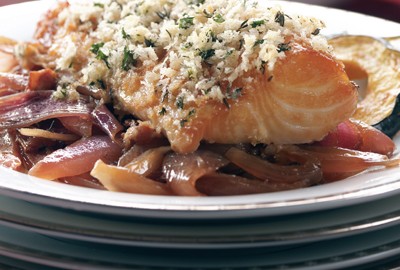 Black cod: 8 fillets of black cod (about 170 grams each) without skin | 6 spoons soy sauce | 3 spoons sugar. Roasted red onions: 170 grams of diced bacon | 3 large red onions, peeled and cut in half and thinly sliced | 3⁄4 cup of dry white wine or vermouth | 2 tablespoons soy sauce | 2 tablespoons thyme leaves, thickly cut | 1 1⁄2  spoonful brown sugar | 3 spoons of red wine vinegar. Crust: 3⁄4 tpanko cup (Japanese bread crumbs): crumbs from fresh bread | 1⁄4 cup chopped parsley | 1 tablespoon chopped thyme | 3 tablespoons melted butter.
Remove any bones that might be in the fillets.
Mix the soy sauce and the sugar in a plastic bag and add the fillets. Seal the plastic bag and move the bag carefully to distribute the marinade. Place in the fridge for a minimum of 4 hours and a maximum of 24 hours. To roast the red onions, fry the bacon in a pan until it's crispy. Remove half of the fat. Add the red onions in the pan with the white wine, the soy sauce, the thyme, the brown sugar and the vinegar. Cook over medium flame, stirring from time to time, until it absorbs all the broth and the onions are tender, approximately about 15 minutes. Place in the fridge until the fillets are ready to be cooked.
Mix the panko or the bread crumbs with the parsley, the thyme, and the melted butter in a bowl.
When ready, preheat the oven to 180 ºC. Reheat the onions in the pan and place them in a baking tray. Remove the fillets from the marinade and place them on top of the onions, peeled side down. Put on top of each fillet an even layer of the crust mixture with a basting brush or with your fingertips. Bake for 24 to 30 minutes until the fillets are ready. Then cook au gratin until the bread crumbs are golden and take
on a brown colour.
Serve immediately with pumpkin puree, roasted winter pumpkin or winter cabbage.