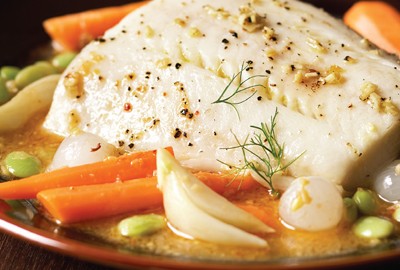 Ingredients: 6 Alaskan black cod fillets (about 200 g each) 2 cups of acacia honey
1 cup low-sodium soy sauce 3/4 cup grape seed oil 3/4 cup white wine vinegar
Fine salt and freshly ground black pepper Spinach or pea leaves: 3 peeled and chopped garlic cloves 3 tablespoons unsalted butter 12 to 15 cups baby spinach with the stems removed or pea leaves Ground nutmeg Fine salt and ground black pepper, to taste Preparation: Mix the honey, soy sauce, grape seed oil and vinegar in a bowl.
Stir and place the black cod fillets in the bowl.  Cover and place in the fridge for 24 hours.  Preheat the oven to 230 ºC. Remove the fish from the marinated sauce and season with salt and pepper.  Place the fillets on a baking sheet and place in the oven until the fillets take on a dark brown colour and are cooked inside, after approximately 7 or 8 minutes.  Melt the butter with the garlic in a frying pan until the butter is golden brown.  Add the spinach and a pinch of nutmeg, salt and black pepper.  Stir fry the spinach leaves. Set up: Divide the spinach or pea leaves evenly among the 6 plates, arrange the fillets in the middle, and pour the sauce over and around the fish.